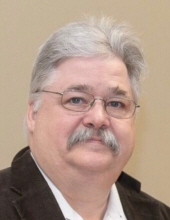 Obituary for Neil Buckley
Neil D. Buckley, 63 of Decatur passed away Saturday, August 10, 2019 at his home. He was born July 28, 1956 in Pana to Larry & Elsie (Culberson) Buckley.
Neil was a 1974 graduate of Assumption High School and went on to work as a welder for Caterpillar. He was raised in the Pana area and lived most of his adult life in the Decatur area with exception of some years he lived in Texas, where he always considered to be "home". He enjoyed getting together with friends to play poker.
Neil is survived by his daughter Emma (Dennis) Boyce of Clinton; grandsons Cameron and Logan Boyce; father Larry (Barb) Buckley of Taylorville; siblings Nicky (Debbie) Buckley of Hammond, Stephanie (Steve) Rogers of Argenta, Robin Hill of Somonauk; and many nieces & nephews. He was preceded by his mother Elsie Buckley.
An informal gathering for Neil's family and friends will be held Friday, August 23, 2019 at 11:00 a.m. at Linwood Cemetery, Pana.
McCracken-Dean Funeral Home is assisting the family.