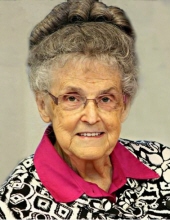 Obituary for Beulah R. Cox
Beulah Cox, 89 of Pana passed away Saturday, June 8, 2019 in Decatur Memorial Hospital. She was born December 13, 1929 in Ramsey to Milton & Rella (Haverstock) McCart. She married Charles A. Cox on June 28, 1946 soon after he returned from serving in WWII and he preceded her in death on December 14, 2008.
Beulah devoted her entire life to her husband, children and her church. She was a founding, lifetime member of the First United Pentecostal Church of Pana. She counseled hundreds of girls at the Illinois District UPC campground for many years. Beulah also made a lasting impact on the Crossroads Apostolic Church in Ellsworth, Maine and Infinite Church in Gahanna, Ohio. Some of her many hobbies included raising tropical fish, creating flower arrangements and artwork.
Beulah is survived by her children: Rev. Michael D. (Gayle) Cox, Surry, ME, Kerry B. (Julia) Cox, Belton, SC, Robert E. (Ruth) Cox, Nashville, IL, Tony R. (Julie) Cox, Mt. Zion, IL, Pamela R. (Kenny) Guinn, Pana, IL, Carol A. (Rev. Mark) Condon, Columbus, OH; 25 grandchildren; 37 great-grandchildren; 1 great-great granddaughter; sister Genelle Black, Tower Hill; and many nieces and nephews. Along with her husband, Charles, she was also preceded in death by her father Milton McCart; mother Rella McCart Sims; granddaughter Tamara Guinn Russell; and siblings Donald McCart and Maxine Gibson.
Funeral services for Beulah will be held Thursday, June 13, 2019 in First United Pentecostal Church, Pana at 1:00 pm. with Pastor Jonathan Blake officiating. Burial will be in Mt. Carmel Cemetery, Ramsey. Visitation will be Wednesday, June 12, 2019 from 5:00-8:00 p.m. at the church.
Memorials in Beulah's honor may be made to the First United Pentecostal Church, 910 E. 6th St., Pana, IL 62557 and will be accepted by McCracken-Dean Funeral Home who is assisting the family.
Previous Events
Visitation
First United Pentecostal
910 E. 6th St.
PANA, IL 62557
Service
First United Pentecostal
910 E. 6th St.
PANA, IL 62557
Cemetery Details
Location
Mt. Carmel Cemetery
County Road 425 East
Ramsey, IL 62080