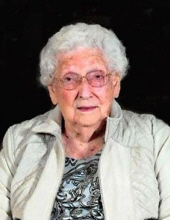 Obituary for Leona M. Henschen
Leona M. Henschen, 95 of Pana, formerly of Assumption, passed away Saturday, February 3, 2018 at Heritage Health in Pana. She was born October 21, 1922, to Albert F. & Lelah M. (Jostes) Henschen and raised in Rosamond.
Leona earned a teaching degree from Eastern Illinois State Normal School in Charleston. She taught in Cowden for 2 years before moving to the Assumption School District. There, for 41 years, she made all of the children her own, even after they were grown. She was also a member of the Assumption United Methodist church. She enjoyed knitting, following the St. Louis Cardinals and other professional and college sports.
Aside from teaching, Leona devoted her life to her family. She cared for her mother for nearly 30 years until her death at age 100. She was generous with her time and talents to the benefit of her many nieces and nephews, who affectionately called her "Auntie". Leona knitted a blanket for every family member in their favorite colors. Each year, she baked a bounty of Christmas cookies and distributed them to every household, and included hand-knitted washcloths with gifts. She mailed cards to her loved ones for every occasion and sometimes just because, as correspondence with family and friends was one of her favorite pastimes. But most significantly, Leona was a wise and loving confidant, enjoying long conversations with family members until weeks before her death.
Leona is survived by her nieces and nephews: Terry (Georgeann) Henschen of Pana, Kathleen (David) Hunter of East Alton, IL, Sharon Henschen and JoAnn Daniel of Pana, and Lynn (Kim) Henschen of Rosamond; great-nieces & nephews: Brett (Beth) Henschen, Lisa (Chris) Fuhler, Brad and Erin Hunter, Jill (Brian) Shaw, Holly, Seth, Leah and Gabriel Henschen; 11 great-great nieces & nephews, 9 great-great-great nieces and nephews. She is preceded by her parents, great-niece Terra Kasch, brother and sister-in-law LaVerne and Marjorie Henschen and close friend Bill Debrun.
Funeral services for Leona will be held Thursday, February 8, 2018 at 11:30 a.m. in McCracken-Dean Funeral Home with Pastor Rena Whitcher officiating. Burial will be in Ohlman Cemetery. Visitation will be held from 9:30 a.m. until time of the service at the funeral home.
Memorials in Leona's honor may be made to the Assumption United Methodist Church, 209 N. Walnut St., Assumption, IL 62510 and to Ohlman Cemetery for grounds upkeep, Dale Klindworth, 1721 E. 200 North Rd., Pana, IL 62557. Donation may be made through McCracken-Dean Funeral Home.
Previous Events
Visitation
McCracken-Dean Funeral Home
308 East 2nd Street
Pana, IL 62557
Service
McCracken-Dean Funeral Home
308 East 2nd Street
Pana, IL 62557
Cemetery Details
Location
Ohlman Cemetery
County Road 1800 E
Rosamond, IL 62083