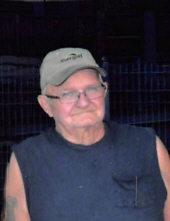 Obituary for Kenneth L. "Short" Ethridge
Kenneth L. "Short" Ethridge, 81, of Pana passed away Monday, May 13, 2019 in his home. He was born May 8, 1938 in Pana to Floyd & Agnes (Christian) Ethridge. He married Jane Bell and together they had three sons. He married Ruby Hagen who shared her two sons with him and they later divorced. He married Susan Nicol, with whom he shared her two daughters and she preceded him in death.
After graduating from high school Kenneth went on to serve his country in the United States Air Force. He lived his entire life in Pana and was a member of the Pana Elks Lodge #1261 and Litchfield Moose Lodge #1634. He retired from Firestone and after a couple of years went on to work for Jacob Construction in Decatur to keep from being bored. When he wasn't working he enjoyed his convertible cars.
Kenneth is survived by his sons, Ken (Laura) Ethridge, Pana, and Floyd Ethridge, Arlington, TX; step-sons, Dave (Donna) Day, and Mike Day, both of Pana; step-daughters Teresa Shallenbarger, Nokomis, and Crystal Hughes, Taylorville; 7 grandchildren; 8 great-grandchildren; 7 step-grandchildren and 3 step great-grandchildren. He was preceded by his father Floyd Ethridge; mother Agnes Calloway; son Robert Ethridge; and brothers Robert Ethridge, Glenn "Art" Calloway, Clifford Callaway, Gene Ethridge, and Bruce Ethridge.
Graveside services will be held Friday, May 17, 2019 in Twin Pines Cemetery, Pana at 2:00 p.m. with Rev. Kenneth Morell officiating. Military rites will be given by the Pana Veterans Honor Guard.
Memorials in Kenneth's honor may be made to the American Cancer Association, 687 E. Linton Ave., Springfield, IL 62703 and will be accepted by McCracken-Dean Funeral Home who is assisting the family.
Previous Events
Graveside
Twin Pines Cemetery
2567-2571 E 250 North Rd
Pana, IL 62557
Cemetery Details
Location
Twin Pines Cemetery
2567-2571 E 250 North Rd
Pana, IL 62557