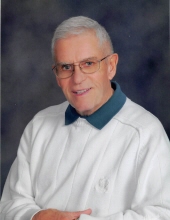 Obituary for Eugene P. "Bud" Schmitz
Eugene P. "Bud" Schmitz, 87, of Pana passed away Thursday, March 7, 2019 in Heritage Health—Pana. He was born May 1, 1931 in Pana, son of the late Eugene Joseph & Thelma M. (Nienstead) Schmitz.
Bud graduated from Sacred Heart School in 1945, receiving the American Legion Award. He then graduated from Pana High School, Class of 1949 before attending the University of Illinois for 1 ½ years. Upon entering the Navy, Bud received training at the U.S. Naval Hospital Medical School in Maryland, graduating in the top 15% of his class. He served from March 12, 1952 until February 24, 1956, during the Korean War, having also trained at the U.S. Naval Station in San Diego, CA and the U.S. Naval Hospital's in Tennessee & Naples, Italy.
Bud began working in a supervisory capacity at Illinois Roses, LTD in grading & marketing of roses. In 1964, Bud took an idea to his father and general manager, Eugene Schmitz Sr., and with his approval and the approval of the other partners in Illinois Roses Limited, Air-Conditioned Roses was formed. The venture began with some reservation and there was a stipulation that Bud would do the leg work, setting up the business. Bud spent 3 months on the road, visiting every florist in a 170-mile range of Pana, gathering accounts. This was a win-win for both the greenhouses & florists, due to the cost of the roses and speed of delivery, which for the most part was shipped by train, bus and private carriers, which was quite expensive. Now the roses were shipped by air-conditioned trucks owned by the greenhouses, thus cutting out the middleman expense. Bud himself spent the first 2 years of Air Conditions Roses, taking orders, loading the trucks and driving the trucks to the Illinois Florists. As the business prospered, more trucks were added. Bud managed and was a member of the board of directors from 1963-1980. He continued to have a strong interest in the business, helping out when needed on a voluntary basis. He returned to Illinois Roses, LTD in his Supervisory capacity until the closing in 1994. In 1981, he was appointed Chief Deputy Coroner of Christian County, serving until 2001.
Bud held several memberships, including St. Patrick's Catholic Church, Pana; AmVets; Pana Community Hospital Board of Directors from 1977-1979; 3rd Degree & life-long member of the Knights of Columbus #896, Pana; Illinois Coroner's Association; and past member and offices held in the Pana Chamber of Commerce as manager of Air-Conditioned Roses and initiated Sweetest Day in Pana.
Bud is survived by his children: Gina Maria Shuff, Pana, IL; Laura Kathleen French, Sparta, IL; Denise Ann Harmon, Floresville, TX; grandchildren: Staci Shuff, Emily Anderson, Anna Detloff, Elliott French, Juliana French, Kayleen Jones, Marissa Russell; brothers: Thomas Schmitz, Timothy Schmitz & James Schmitz and sister, (Aukelia) Sister Mary Sharon Schmitz RSM. He was also preceded in death by a daughter, Angela Theresa Detloff; siblings: Joseph Schmitz, Larry Schmitz, Sharon Law.
Funeral mass will be held on Monday, March 11, 2019 in St. Patrick's Catholic Church at 10:30 a.m. with Rev. Rodney A. Schwartz officiating. Burial will be in Calvary Cemetery, Pana with military rites by Pana Veterans Honor Guard. Visitation will be Monday from 9:00 a.m. until service time in church.
Memorials in Bud's honor may be made to St. Patrick's Catholic Church, Pana.
Previous Events
Visitation
St. Patrick's Catholic Church
303 S. Locust St.
Pana, IL 62557
Service
St. Patrick's Catholic Church
303 S. Locust St.
Pana, IL 62557
Cemetery Details
Location
Calvary Cemetery
Illinois 16 and N 2200 East Road
Pana, IL 62557