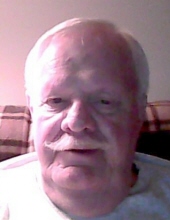 Obituary for Carl O. Gullidge
Carl O. Gullidge, 73, of Pana passed away Sunday, June 23, 2019 in Prairie Rose Health Care Center. He was born April 14, 1946 in Pana, son of the late Lyle and Cecile Williams Gullidge.
Carl Graduated from Pana High School in 1964. After high school, worked at Illinois Central Railroad as a telegraph operator and later became a manager. He was then transferred to Markham Yards in Chicago, where he was a train lister. Carl entered the Navy, where he served from 1963-1969. After his time in the military, he returned to the railroad and became a conductor. He left Chicago, moving to Indiana, and worked as an over-the-road truck driver for 20 years. Carl then worked as a Charter bus driver, coming back to Pana in 2005 and working for Cavallo Bus Lines. His happiest times were driving the charter bus for U.S. troops.
He is survived by his brother, James "Hap" Gullidge; sister, Lafonda "Sue" Lipcaman, both of Pana, IL; nieces: Tammy (Dan) Deere & Tracy (Mark) Craig; great niece, Ashley Deere and great nephew, Tyson Craig. In addition to his parents, he was preceded in death by 1 sister in infancy.
Private family services will be held and inurnment will be in Camp Butler National Cemetery, Springfield.
Memorials in Carl's honor may be made to the Loaves & Fishes Food Pantry or A.S.P.C.A and will be accepted by McCracken-Dean Funeral Home, who is assisting the family.
Events